New Jersey Republican Councilwoman Eunice Dwumfour was shot and killed Wednesday night in a harrowing crime that has led to very little mainstream media coverage.
Dwumfour was gunned down as she drove home Wednesday evening in Sayreville, New Jersey. In videos taken shortly after the incident, viewers can see her SUV on a tow truck, clearly damaged from the incident.
Friend and Pastor Nelia Rodriguez said she believed Dwumfour was the victim of a targeted and "personal attack."
"We believe it [was] very personal because she was shot seven times in the face and another seven shots were hitting everywhere [else]," Rodriguez said on "The Ingraham Angle." "So for somebody to get so close to somebody and shoot them so many times, it has to be personal."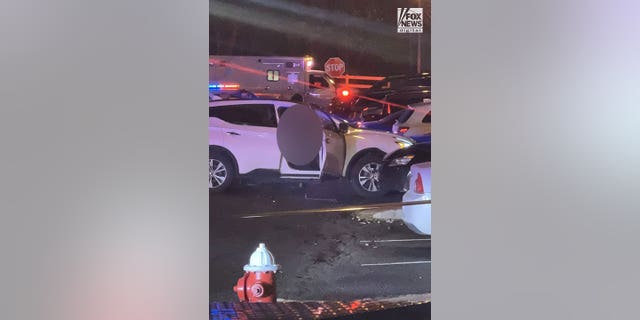 Photo obtained by Fox News Digital shows aftermath of the shooting involving New Jersey Councilwoman Eunice Dwumfour (Obtained by Fox News Digital')
The Middlesex County Prosecutor's Office said the investigation into Dwumfour's death is ongoing. Officials have not released a motive or any information about a suspect.
The 30-year-old mother was active in her church and was serving a three-year term in office before her tragic killing, according to the Sayreville Borough Council.
Dwumfour served as the chair of the Public Safety Committee and worked closely with police to reduce crime, Glenn Skarzynski, business administrator for the Borough of Sayreville, told Fox News earlier Thursday.
Skarzynski said he doesn't think that relationship played a role in her murder.
"I can't think of anything that she could have done or said that would have made her a target of such a heinous act. Nothing that would lead us to believe it had any role in the public safety community had nothing to do with this horrifying incident," he said.
Here is a picture of Dwumfour, provided by the Sayreville GOP. Rest in peace, Eunice Dwumfour.
READ MORE: