The FDA has been forced to release batches of documents regarding Pfizer's COVID-19 vaccine after a federal judge issued an order for them to comply with the Freedom of Information Act. The request was filed by a group of over 30 professors and scientists called the Public Health and Medical Professionals for Transparency (PHMPT). Their request was centered around data that factored into the FDA's decision to authorize Pfizer's vaccine for emergency use.
The FDA challenged the court's ruling and lost the appeal.
PHMPT released this statement: "The entire purpose of the FOIA is to assure government transparency … It is difficult to imagine a greater need for transparency than immediate disclosure of the documents relied upon by the FDA to license a product that is now being mandated to over 100 million Americans under penalty of losing their careers, their income, their military service status, and far worse."
A Pfizer doc called "Cumulative Analysis of Post-Authorization Adverse Event Records Reports" that the company registered tens of thousands of adverse reactions to their vaccines over the 90-day period of December 1st, 2020 – February 28th, 2021. Among those reactions were 1,403 cardiovascular reactions: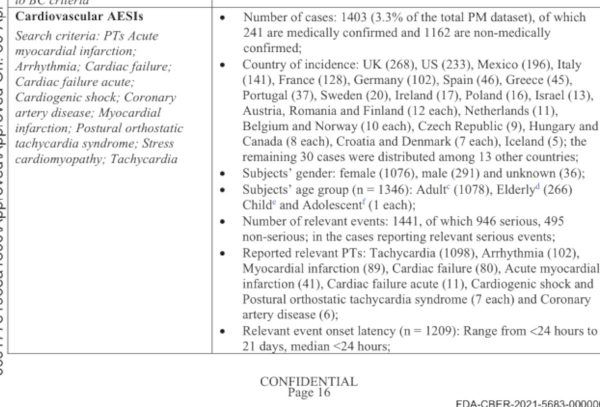 There were also a whopping 1,223 deaths amongst these effects measured. The death data set is starred on the below image: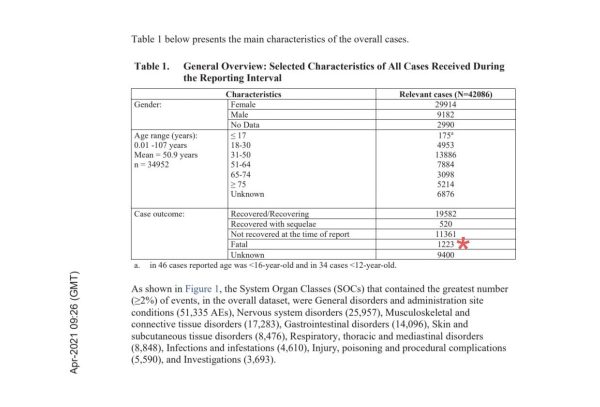 It is worth noting that the data released only includes instances that are considered "serious." One wonders how many more effects have been registered: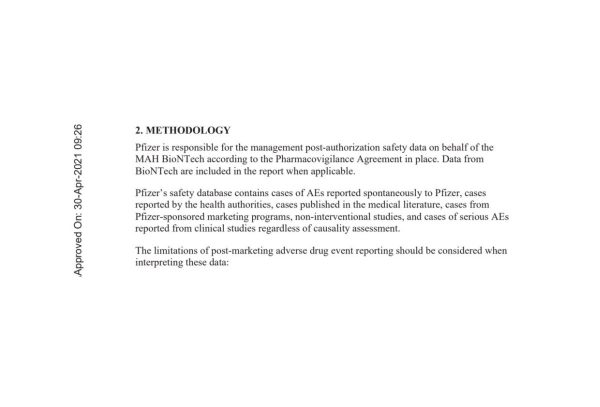 Shockingly, this data was actually reviewed by the FDA prior to deeming the Pfizer vaccine "safe" and "ready" for use in America. Keep in mind, this is the same vaccine that the government and Big Pharma are pushing on children.
More documents will be released to the public in the near future, and we will keep reports coming.
READ NEXT: