Right now, the battle for the Senate is a dead heat race, and Republicans have officially taken the lead in FiveThirtyEight's Senate forecast for the first time in a long time.
Driving that update in the forecast today? Big shifts in Arizona and New Hampshire, two seats that can make or break the Republicans' bid to flip power in the Senate.
With election day right around the corner, the GOP has momentum in both states. Here's where things stand in these tight contests one week out.
---
Arizona – Blake Masters versus Mark Kelly (incumbent)
Republican Blake Masters has closed the gap on incumbent Democrat Mark Kelly, but Kelly still sees a 1-2 point lead in recent polls.
However, Libertarian Party candidate Marc Victor has just dropped out and endorsed Masters, and possibly swung this race in the GOP's favor.
Victor's libertarian vote share – projected to fall between 1.5 and 2.5 percentage points of votes cast in this race – is now up for grabs, and the endorsement gives Masters a solid chance to capitalize.
Arizona is now trending in the right direction for Republicans, but Masters still has plenty of work to do to clinch this race, and even win Victor's libertarian votes.

This race will go down to the wire, and Kelly's incumbent status is still a hurdle for Masters. But Victor's support could play a big role in wild Arizona, where the Senate race could very well be decided by less than one percent.
Given Masters' momentum, we're changing our race rating from lean Democrat toss-up to lean GOP toss-up.
OUR RACE RATING: LEAN REPUBLICAN TOSS-UP
RECENT COVERAGE: NEW POLL Shows AZ Republican Candidate Blake Masters Catching Up to Democrat Incumbent
---
New Hampshire – Don Bolduc versus Maggie Hassan (incumbent)
General Don Bolduc is making an unthinkable final push in New Hampshire, shredding incumbent Democrat Maggie Hassan's lead in the latest polls.
Now, Bolduc has finally taken an ever so slight 1-point lead in the most recent poll released.

The past four polls (and their ratings) are as follows:

R +1 (A/B poll)
EVEN (B/C poll)
D +1 (B poll)
D +4 (A- poll)

Recent polling – in New Hampshire, at least – gives us a terrific look into this race, and the clear shifts happening before our eyes. New Hampshirites are heavily considering Don Bolduc as the top kitchen table issues move to the forefront across America.

Losing New Hampshire would cripple the Democrats' chances of holding onto the Senate, and nearly guarantee GOP control.
This race will be competitive on election day, and a final surge from Bolduc could swing things squarely in Republicans' favor. But for now, we're sticking with our rating of lean Democrat toss-up in New Hampshire.

OUR RACE RATING: LEAN DEMOCRAT TOSS-UP
---
Considering today's updates in Arizona and New Hampshire, we've updated our Senate forecast. Arizona is now a LEAN GOP seat, giving Republicans a 53-seat majority in our model: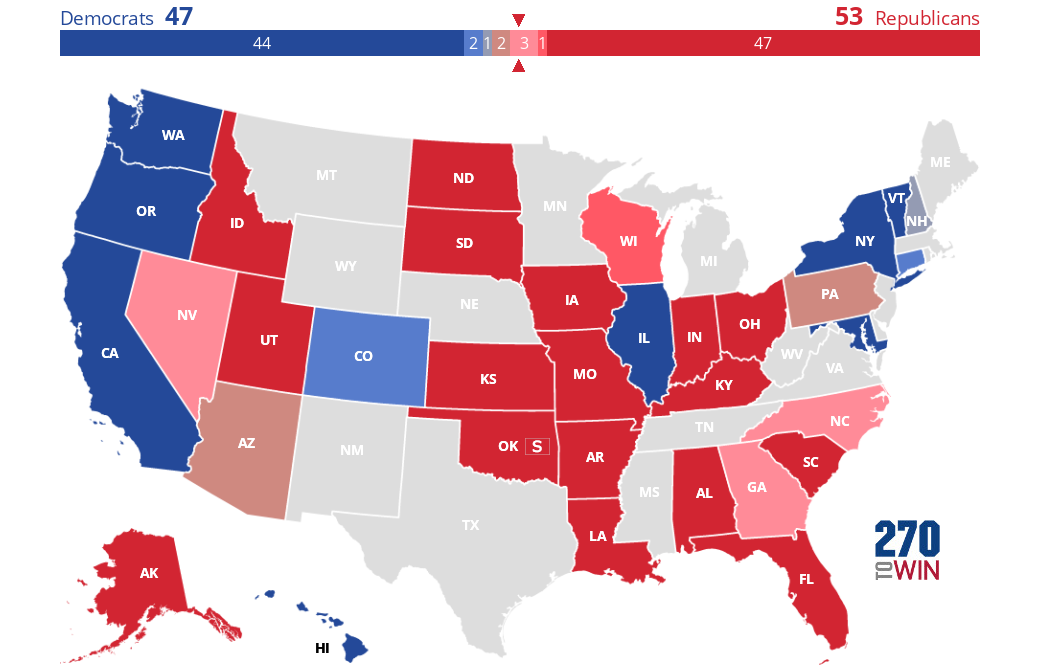 Check back in for more updates as the election draws near. Also, read our most recently updated gubernatorial forecast for 2022 here.