Across the country, campaigns are scrambling to get out the vote and keep their messages on the airwaves, and key races are starting to shape up. The final stretch of the midterm cycle is officially here, and we have some exciting updates on deck.
Right now, the battle for the Senate is a dead heat race, with Republicans' chances of flipping the chamber trailing Democrats' chances of holding it by just two points in FiveThirtyEight's election model.
But shifts in key battleground races are quickly vaulting Republicans into winning positions. Here is a rundown on five of the closest Senate races in America right now.
---
Arizona – Blake Masters versus Mark Kelly (incumbent)
Republican Blake Masters has closed the gap on incumbent Democrat Mark Kelly, but Kelly still sees a 1-2 point lead in recent polls.

Arizona is trending in the right direction for Republicans, but Masters still has plenty of work to do to clinch this race.
This race will go down to the wire, but we're giving Kelly a slight edge thanks to incumbency and the massive Democrat war chest behind his campaign.
We don't believe Republicans need Arizona to take back the Senate, but winning AZ is necessary to notch a 3 or 4-seat majority.
OUR RACE RATING: LEAN DEMOCRAT TOSS-UP
RECENT COVERAGE: NEW POLL Shows AZ Republican Candidate Blake Masters Catching Up to Democrat Incumbent
---
Pennsylvania – Mehmet Oz versus John Fetterman
Dr. Mehmet Oz has stormed back in PA after Democrat John Fetterman's health struggles have been put on display for all to see.

Two months ago, our publication was predicting a multi-point win for Fetterman. Now, we believe Oz is in position to win due to Fetterman's obvious incapacitations.
FiveThirtyEight has boosted Dr. Oz's odds of victory by a whopping 100% in October alone.
OUR RACE RATING: SOLID REPUBLICAN PICKUP
WATCH DEBATE HIGHLIGHTS: Oz vs. Fetterman Debate: Full Video Highlights
---
Georgia – Herschel Walker versus Raphael Warnock (incumbent)
American football legend Herschel Walker has held his own against incumbent Democrat Raphael Warnock, despite explosive allegations on the issue of abortion.

Walker now leads by 1-5 points in every highly-rated poll published within the past few weeks.
Walker's strong debate performances clearly won him some undecided support despite abortion scandals, and Warnock's own scandals are proving tricky for Democrats.
Bet on the Georgia football great to win this race by 2-3 percentage points and bring the GOP one step closer to taking back the Senate.
OUR RACE RATING: REPUBLICAN FLIP
RELATED: Respected Polling Firm Predicts BIG Wins for Republicans in Midterms
---
Nevada – Adam Laxalt versus Catherine Cortez Masto (incumbent)
Republican Adam Laxalt is now leading incumbent Democrat Catherine Cortez Masto by 4 points in the latest Trafalgar Group poll.

Thought by many to be the seat that makes or breaks control of the Senate this cycle, Nevada's Senate race has been highly contentious. The first few months of polling showed a dead heat race… but now, Laxalt has a chance to break away.
Democrats are flooding the state with resources for Cortez Masto, while Laxalt has the powerful conservative organization Club for Growth running ads for his campaign.
Nevada will be CLOSE, but we believe this seat will ultimately give Republicans a Senate majority in 2023.
OUR RACE RATING: LEAN REPUBLICAN TOSS-UP
RELATED: Respected Polling Firm Predicts BIG Wins for Republicans in Midterms
---
New Hampshire – Don Bolduc versus Maggie Hassan (incumbent)
General Don Bolduc is making an unthinkable final push in New Hampshire, shredding incumbent Democrat Maggie Hassan's lead in the latest polls.

The past three polls (and their ratings) are as follows:

EVEN (B/C poll)
D +1 (B poll)
D +4 (A- poll)

Given recent polling, this race is much closer than anyone expected, and it's important to remember New Hampshire will be re-electing GOP Governor Chris Sununu.
This race will be competitive on election day.
However, there isn't enough data here yet to suggest a Republican flip is imminent, or even likely.
OUR RACE RATING: LEAN DEMOCRAT TOSS-UP
---
These aren't the only five Senate races that matter in the midterms, but they are the five most likely to make or break control of the chamber for either party.
In other competitive races, we believe Republican JD Vance will win handily in Ohio, Ron Johnson (R) will hold on in Wisconsin, and Ted Budd (R) will be North Carolina's next Senator. Democrats will hold onto every seat in their Northeastern bloc, but Washington and Colorado are two races that could be more competitive than expected.
Looking at our forecast in total, we predict Republicans will FLIP THE CHAMBER and control 52 Senate seats in the next Congress as of October 28th: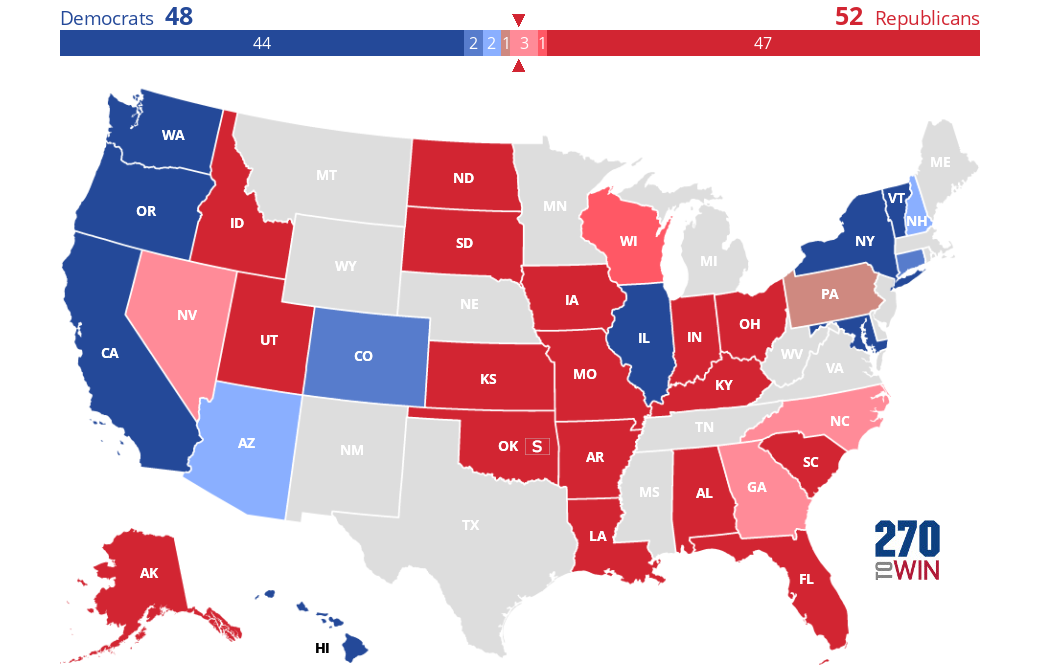 For more midterm news and expert analysis, head to Rogue Review's 2022 Midterm Headquarters to see our race ratings in the Senate, House, and Governorships across the country: